I know it's a Wednesday and not many people are thinking of cocktails but we're halfway through the week and these are a small list of cocktail recipes to be sure to get you in the Christmas Spirit!
With sweet, sweet flavors like apple cider, eggnog, peppermint, white chocolate, cinnamon, the possibilities are endless on the amount of cocktails you can make merry and cheery. I even included a few mocktails for the kiddos or expecting mothers.
Christmas Cocktails
Boozy Grinch Punch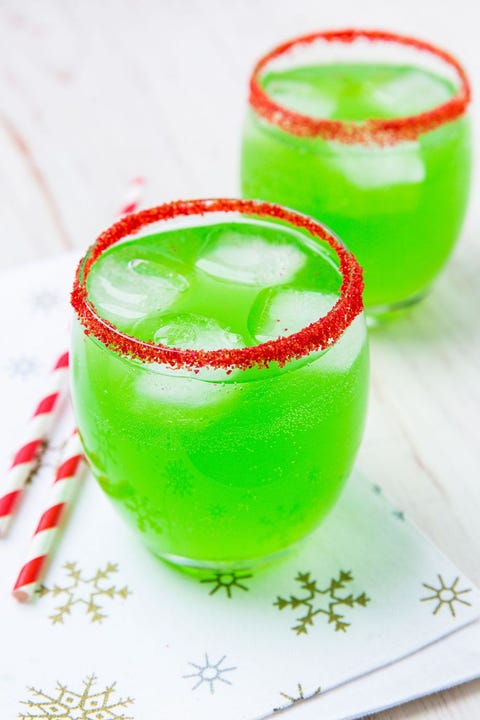 INGREDIENTS:
(0.13-oz.) packet Kool-Aid Lemon Lime mix 4 c.
water 4 c.
ice 3 c.
lemon-lime soda 2 c.
pineapple juice 2 c.
vodka 1 c.
ginger ale
Lime wedges, for rimming
Red sanding sugar, for rimming
DIRECTIONS:
In a large pitcher combine Kool-Aid and water.
In a large punch bowl, combine ice, kool-aid, soda, pineapple juice, vodka, and ginger ale.
Use a lime wedge to rim glasses and dip in sanding sugar to coat. Pour punch into glasses to serve.
photo by: Emily Hlavac Green
Warm Tea and Cider Punch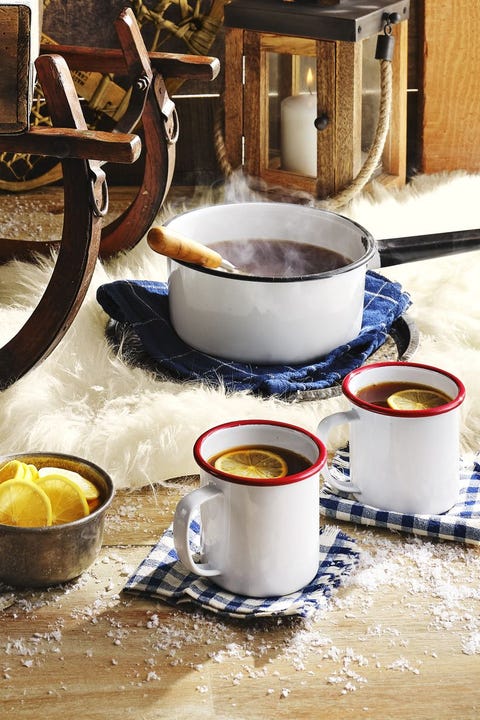 INGREDIENTS
6 c. fresh apple cider
8 English breakfast tea bags
1 sliced lemon
4 1/2 oz. bourbon
DIRECTIONS
Bring 6 cups of fresh apple cider to a boil in a large saucepan.
Reduce heat and simmer until cider is reduced to 3 cups, 30 to 45 minutes.
Remove from heat and add 8 English breakfast tea bags and 1 sliced lemon; steep for 4 minutes. Discard tea bags.
Stir in 4 1/2 ounces bourbon. Serve warm.
photo by: Brian Woodcock
Driven Snow Cocktail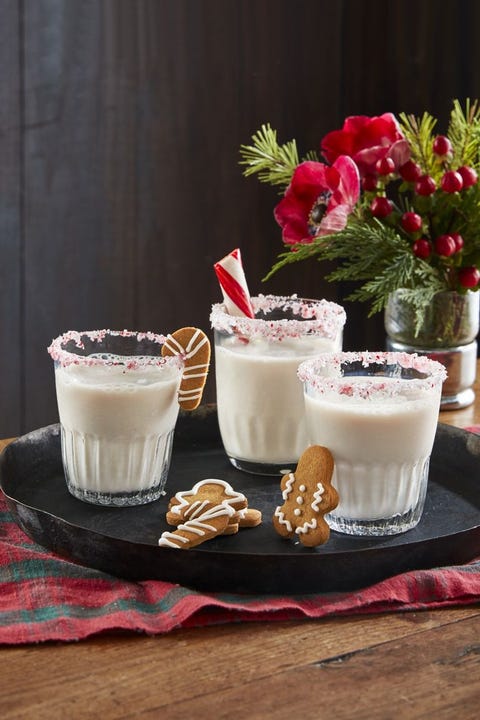 INGREDIENTS
Finely-crushed candy canes
1 1/2 oz. white chocolate liqueur
1 oz. blackstrap rum
1/2 oz. ginger liqueur
Ice
Water
DIRECTIONS
Dip the rim of a glass in water, then in finely crushed candy canes.
Combine white chocolate liqueur, blackstrap rum, ginger liqueur, and ice in a cocktail shaker. Shake vigorously, then strain into prepared glass.
Serve garnished with a bite-size gingerbread cookie, if desired.
photo by: Brian Woodcock
Cranberry Mimosas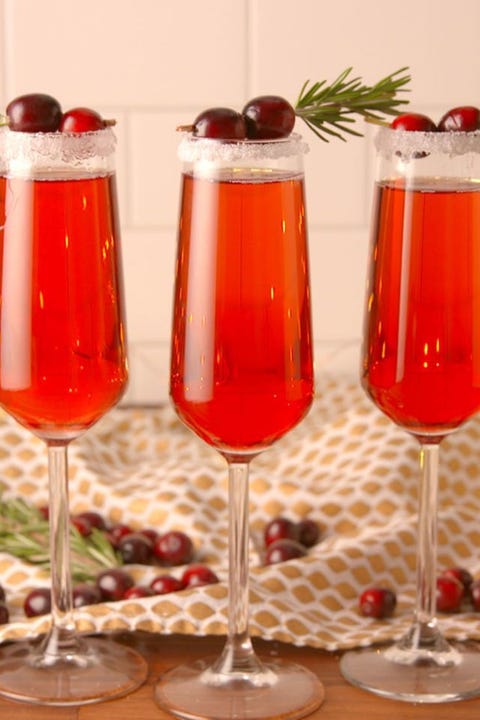 INGREDIENTS
1 lime, halved
2 tbsp. sugar
1 c. sweetened cranberry juice
1 bottle champagne
12 fresh cranberries
4 small sprigs fresh rosemary
DIRECTIONS
Rime champagne flutes with lime and dip in sugar. Pour 1/4 cup cranberry juice into each glass and top with champagne.
Use a toothpick to poke a hole through cranberries. Thread rosemary skewer through cranberries and garnish mimosas.
photo by Jonathan Boulton
Rumchata Egg Nog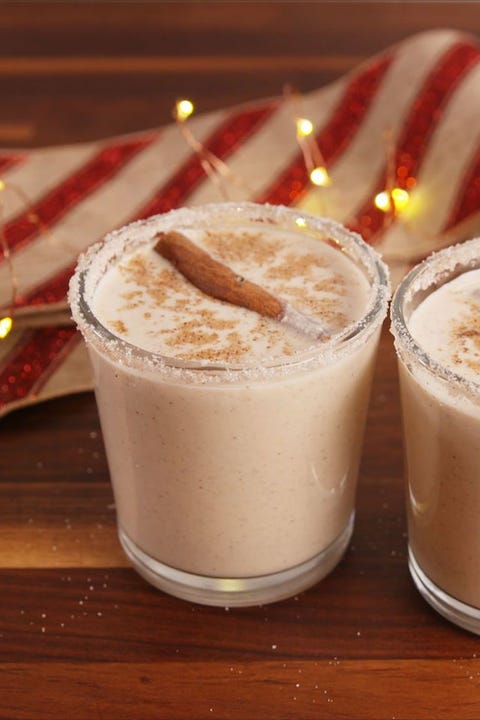 INGREDIENTS
1/4 c. sugar
1 tsp. cinnamon
5 egg yolks
1/3 c. sugar
2 c. milk
1/2 tsp. cinnamon
1/4 tsp. nutmeg, plus more for garnish
1 tsp.
vanilla
3/4 c. heavy cream
1 c. Rumchata
Cinnamon sticks, for garnish
DIRECTIONS
Make cinnamon-sugar rim: Combine cinnamon and sugar on a shallow plate. Moisten the rim of each glass with water and dip into the cinnamon sugar. Set aside.
Make egg nog: In a large saucepan, whisk egg yolks and sugar to combine. Add milk, nutmeg, cinnamon, and vanilla, and turn on heat to medium-low. Cook for about 10 minutes, or until mixture is thick enough to coat the back of a spoon. Do not boil. (If using a candy thermometer, the mixture should reach 160 degrees F.)
Remove from heat, stirring in heavy cream and RumChata. Refrigerate until chilled.
When ready to serve, pour into cups and sprinkle with additional nutmeg. Garnish with cinnamon sticks if desired.
Christmas Mocktails
Let's face it, kids deserve some fun drinks for the holiday's too! Also, if you have any expecting mother friends who can't drink, you can make these as a fun alternative so that they don't feel left out!
These five drinks are just as delicious without alcohol but it can also be added to any of these options!
Cranberry-Apple Cider Punch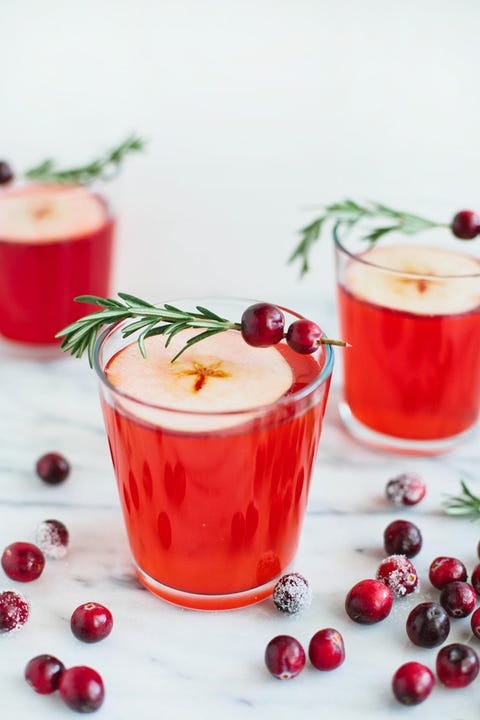 INGREDIENTS:
4 cups apple cider, chilled
2 cups cranberry juice cocktail, chilled
2 cups ginger ale, chilled
1 can (12oz.) frozen orange juice concentrate
apple slices & orange slices for garnish
frozen cranberries, optional for garnish
or rosemary cranberry sprig for individual garnish, as shown in image
photo by SAY YES
Eddie's Eggnog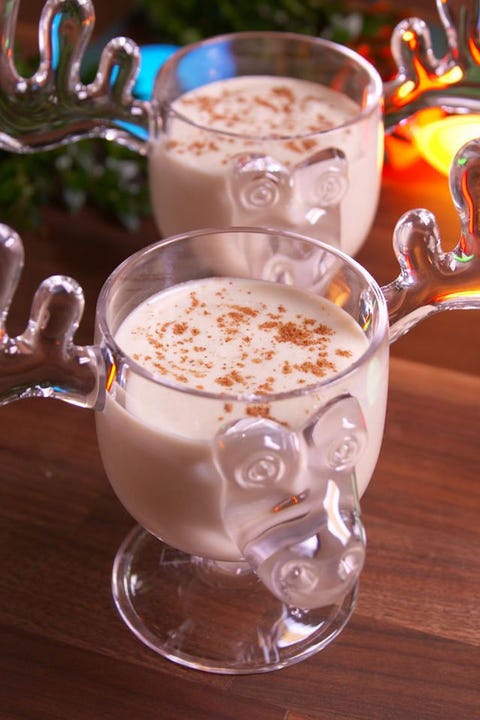 INGREDIENTS
3 eggs, lightly beaten
1/3 c. sugar
1/8 tsp. salt
2 2/3 c. milk
1 tsp. vanilla extract
1 c. Cool Whip or Whipped Cream
ground nutmeg
DIRECTIONS
In a large saucepan, combine eggs, sugar, salt and milk over medium heat, stirring continuously for 10-12 minutes, or until the mixture can coat the back of a spoon.
Remove from heat and stir in vanilla extract.
Fill a larger bowl halfway with ice water. Lower the bottom of the saucepan into the ice water dish to cool the egg mixture for about 5 minutes.
Place egg mixture in the refrigerator to chill, about 20 minutes.
Once chilled, add whipped cream to egg mixture, stirring to combine.
Pour into cups and sprinkle with nutmeg. Serve.
photo by Chelsea Lupkin
Candy Crush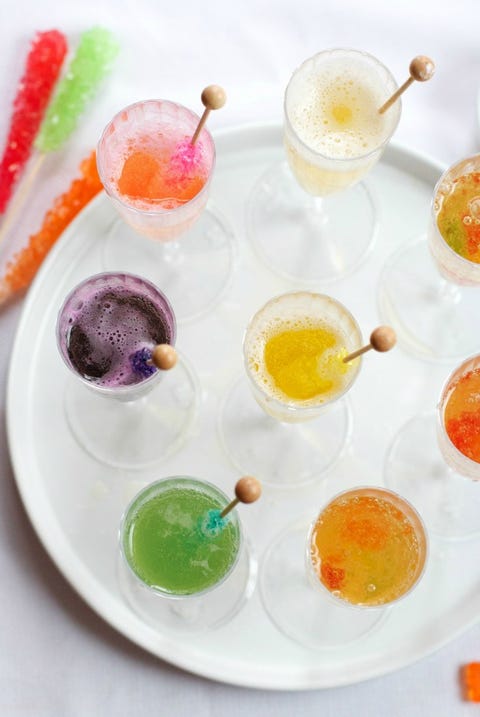 This is literally the simplest recipe with sparkling juice of your choice and rock candy or gummy bears!
Use plastic champagne flutes. Kids (and let's face it, adults, too!) can be clumsy with glasses they don't use often. Plus, no one wants to clean up broken glass during a party.
Use light-colored juice. Candy that has food coloring (like the rock candy) will change the color of your juice. For the most eye-catching results, use apple, white grape or another light-colored juice. (Sparkling apple juice was used in the photos.)
Cut the juice with water if you need to. If your kids go nuts when they have juice, you won't want them wired right before bedtime (especially if you're adding in the candy!)
photo by Modern Parents Messy Kids
The Grinch Punch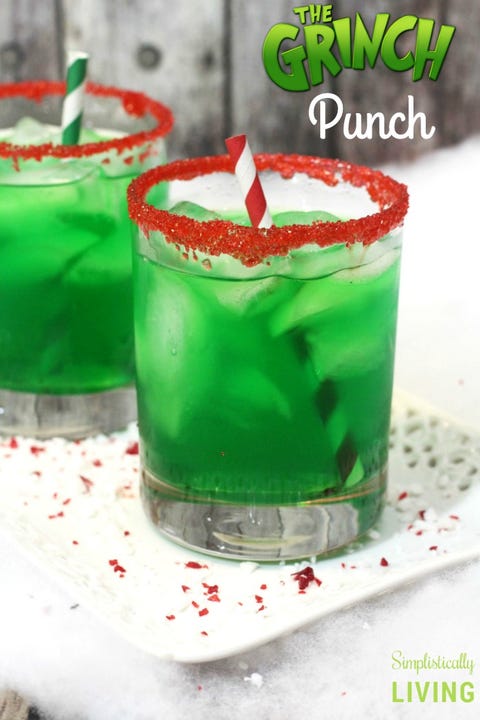 INGREDIENTS:
2 13oz packets Unsweetened Lemon-Lime Kool-Aid
Sugar
Pineapple Juice
Frozen Lemonade Concentrate, thawed
Sprite
Ice
Red Sanding Sugar for Glass Trim
DIRECTIONS:
In a large pitcher combine Kool-Aid and water.
In a large punch bowl, combine ice, kool-aid, sprite, pineapple juice and frozen lemonade.
photo by simplistically living
Blood-Orange Italian Soda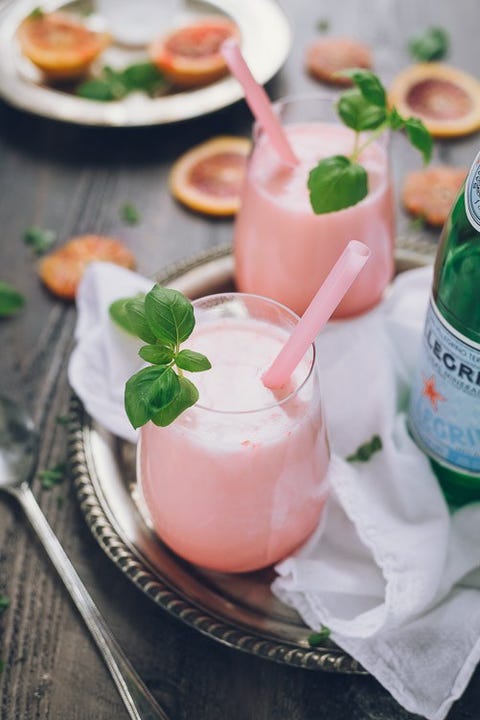 INGREDENTS:
Blood Orange Syrup
1 cup sugar
1 cup water
The juice of 3 blood oranges
1 drop red gel food coloring (optional)
Soda
1 large bottle sparkling water
1 cup coconut milk (unsweetened)
Basil or Mint to garnish
DIRECTIONS:
In a medium-sized sauce pan, add the sugar and water and bring to a boil.
Remove from the heat and add the blood orange juice.
Stir together to combine. (If you want a darker red coloring, feel free to add some food colorant to help give it that deep red color).
In a glass, add about ½ cup perrier then about 2 tbs. of the syrup and ¼ cup coconut cream.
Garnish with mint or basil and serve immediately.
photo and recipe by The Blonde Chef
I think this was a good fit for Blogmas! what better way to get into the Christmas spirits than drink with your friends and family? If you're still social distancing (as some should) send these recipes to a friend and mingle over zoom or Skype! Let me know which ones are your favorite in the comments below! Happy Holiday's!
with love,
c.p