Have you ever thought about making a WHOLE vegetarian Christmas dinner or just a whole vegetarian dinner in general? Most people probably haven't but if this is your lifestyle then this is something you aare probably used to! I've been a vegetarian for 16 years.
I've told the story before but when I was younger I used to help my mom cook in the kitchen all the time. It was my favorite thing to do. When I was about 7 years old I was in the kitchen with my mom when I realized there was blood coming out of the chicken and in the moment I realized what meat actually was (animal) and from that day forward I never wanted to eat meat again. So I didn't. I started off slowly as you should eating less and less of meat until I completely cut it out of my diet completely. When people or doctors ask if I'm on a special diet I don't even consider it a diet, it's like a part of who I am now.
Anyway, that's not what you're here for. It's very unlikely that I'll ever make a full vegetarian dinner since I'm the only one in the family but it's a nice thought and it gives me a chance to share some of my favorite vegetarian recipes.
The main dish is probably the hardest to figure out. Being that it is vegetarian and usually the main course is something meaty. The idea of the main dish though is the dish that all of the other dishes are served around.
Main Dish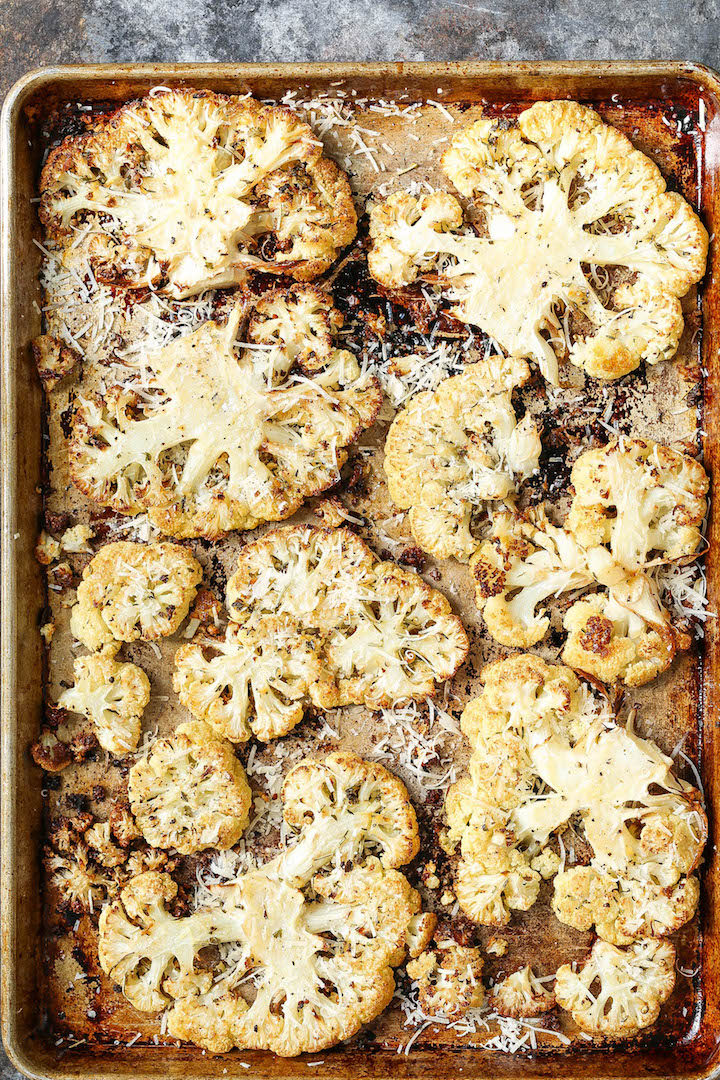 Garlic Parmesan Cauliflower Steaks
INGREDIENTS:
3 tablespoons olive oil
4 cloves garlic, minced
1 teaspoon dried oregano
1/2 teaspoon dried thyme
1/2 teaspoon dried rosemary
1/2 teaspoon dried parsley
2 heads cauliflower, cut into 1/2-inch slices
Kosher salt and freshly ground black pepper, to taste
1/4 cup freshly grated Parmesan
DIRECTIONS:
Preheat oven to 400 degrees F. Lightly oil a baking sheet or coat with nonstick spray.
In a small bowl, combine olive oil, garlic, oregano, thyme, rosemary and parsley.
Place cauliflower slices in a single layer onto the prepared baking sheet. Brush each slice with the olive oil mixture on both sides; season with salt and pepper, to taste.
Place into oven and bake until golden brown, about 20-25 minutes, flipping halfway.
Serve immediately, sprinkled with Parmesan.
photo by: damndelicious.net
Side Dishes
VEGAN Mac and Cheese
INGREDIENTS FOR PANKO TOPPING
2 tbsp. extra virgin olive oil
1/2 c. Panko bread crumbs
2 tsp. fresh thyme leaves
Kosher salt
Freshly ground black pepper
FOR MAC & CHEESE
1 lb. medium shells
1 tbsp. refined coconut oil or vegetable oil
1 white onion, chopped (about 1 1/2 cups)
1/2 medium yellow pepper, chopped (about 1 cup)
1 tsp. ground mustard
1 tsp. ground cumin1 1/2 c.
raw cashews
1 russet potato, peeled and cubed (about 2 cups)
3 1/2 c. water
2/3 c. sauerkraut, drained in a fine mesh sieve
3 tbsp. nutritional yeast
1 tbsp. white wine vinegar
1 tbsp. hot sauce (such as Cholula)
DIRECTIONS
In a large, salted pot of water, boil pasta until al dente, 9 to 10 minutes. Drain.
Meanwhile, make Panko topping: in a medium skillet over medium heat, heat olive oil. Add Panko and thyme, and season with salt and pepper. Cook, stirring occasionally, until Panko is golden. Transfer to a bowl to cool.
In a large pot over medium heat, heat coconut or vegetable oil. Add onion and pepper and cook until soft, 6 minutes. Season with salt and pepper, then stir in mustard and cumin and cook until fragrant, 1 to 2 minutes more. Add cashews, potatoes, and water and bring to a boil. Boil until potatoes are tender, 6 to 7 minutes.
When potatoes are tender, transfer mixture in pot to a blender or food processor, and puree until smooth. Add sauerkraut, nutritional yeast, white wine vinegar, and hot sauce. Puree again until smooth, then taste and season with salt and pepper if needed.
Combine cooked pasta and cheese sauce in a large bowl and stir to combine. Top with Panko mixture and serve.
Roasted Brussel Sprouts
INGREDIENTS
1 lb. Brussels sprouts, trimmed and halved
2 tbsp. olive oil
kosher salt
Freshly ground black pepper
or seasoning of your choice
Flaky sea salt, for serving (optional)
DIRECTIONS
Preheat oven to 425°. On a large baking sheet, drizzle brussels sprouts with olive oil and season with salt and pepper. Toss until combined.
Roast until the brussels sprouts are crispy on the outside and tender on the inside, about 25 minutes, shaking the pan halfway through.
Sprinkle with flaky sea salt, if desired, and serve immediately.
Mashed Potatoes and Mushroom Gravy
INGREDIENTS FOR GRAVY
2 tbsp. extra-virgin olive oil
1/2 Onion, finely chopped
4 oz. mushrooms, finely chopped
kosher salt
Freshly ground black pepper
1 tsp. chopped thyme
1 tsp. chopped sage
1 tsp. chopped rosemary
3 tbsp. all-purpose flour
3 c. vegetable stock
DIRECTIONS
Heat olive oil in a small saucepan over medium heat. Add onion and sauté until soft, 6 minutes. Stir in mushrooms and herbs and season with salt and pepper. Cook until soft, about 5 minutes more. Add flour and cook for 1 minute.
Pour in 2 cups of vegetable stock and whisk to combine. Bring to simmer and cook for 5-10 minutes, until the flavors have melded and the mixture has thickened slightly. If the mixture is too thick, gradually add more vegetable stock.
Taste and season with more salt and pepper if needed, then serve warm.
Dessert
Cinnamon Sugar Vegan Donuts
INGREDIENTS FOR THE DONUTS
Cooking spray1 c.
all-purpose flour1 tsp.
baking powder1 tsp.
ground cinnamon1/2 tsp.
baking soda1/2 tsp.
kosher salt2/3 c.
unsweetened almond milk1/2 c.
granulated sugar1/4 c.
melted vegan butter1 tsp.
apple cider vinegar1 tsp.
pure vanilla extractFOR THE CINNAMON-SUGAR COATING1 c.
granulated sugar4 tsp.
ground cinnamon
Pinch kosher salt
DIRECTIONS
Preheat oven to 350° and grease a donut pan with cooking spray. In a large bowl, whisk together flour, baking powder, cinnamon, baking soda, and salt.
In a medium bowl, whisk together almond milk, sugar, butter, apple cider vinegar, and vanilla. Pour into dry ingredients and mix until just combined. Transfer batter to a piping bag and pipe into prepared donut pan.
Bake until edges are golden and middles are set, 10 minutes. Remove donuts from pan and let cool slightly on a cooling rack.
In a medium bowl combine sugar, cinnamon, and a pinch of kosher salt. Gently toss donuts in cinnamon sugar while still warm.
Yeah I know.. Some of these recipes sound crazy like Vegan Mac and Cheese and Mushroom gravy?? Mac and CHEESE is supposed to be packed full of dairy! Which it could be and it would still be considered vegetarian! Some people don't know the difference or often will use the term interchangeably and that's not necessarily the case. Of course, both vegans and vegetarians don't consume meat. That they do have in common. But the difference between the two is that vegans don't eat animal byproducts either such as dairy, honey, eggs, gelatin, etc. where as vegetarians can consume those things and often do.
I'm slowly getting away from dairy. It's more my body doesn't like it very much anymore more so than me. I'll still eat cheese though.. I love cheese. I do feel like I'm primarily plant based though and I just love good hearty vegetable meals.
This was a fun post to make! I hope you enjoyed it as much as I did!
with love,
c.p